Yesterday! :3D Puzzle Game about the philosophy of love and encounter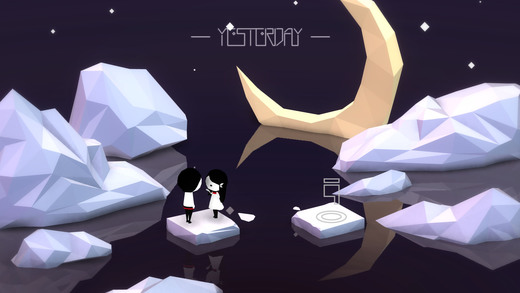 Published by top game publisher Youzu Stars from China,  Yesterday! gets featured by App Store in the Europe countries like Italy, France and Spain, etc.. The game won 1st Prize of Best Game Creative Award in the 7th China Game Developers Awards and Excellent Indie Game. Yesterday! is a 3D Puzzle Game about the philosophy of love and encounter. Space is independent, time is irreversible. The encounter in life, however, is so amazing that it makes everything colorful.
The Core Gameplay of Yesterday!
The core gameplay of Yesterday! is based on magic cube. It tells a story of 'finding him' from a girl's perspective. Players will play as the girl in game. They can move on connected cubes on a same plane, or rotate cubes based on where the girl stands. Objective is to approach the illusion of the girl's beloved boy. Players will receive an item with a piece of memory at the end of each level. All the items together tell a story, in which players may see themselves.
Main Features of Yesterday!
Yesterday! has seven chapters in total. Each of them is designed under a specific topic about love and follows a different play-style and art design based on that topic! And Yesterday! integrates the difficulties of real-life relationship, such as the different modes of thinking and the struggle of long-distance lovers into game. Different players may find different stories in game based on their own understanding! So Yesterday! is not about a story of one couple, it tells story of every couple.
Yesterday! is totally easy to play with multiple fun. Players can click to move the lovers and rotate to change the shape of magic cube or view with the fun both experiencing the moving story and enjoying puzzle solving!
Enjoy the game and find out how many steps do you need to meet your couple and not to miss your couple?
Get Yesterday! on iOS App Store